student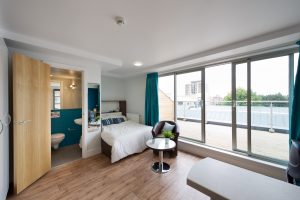 Student Homes Lancaster ? It's Easy If You Do It Smart
Lancaster is a city and the county town of Lancashire, England.  Located on the River Lune, with a  population  45,952. It's regarded that the city is one of Europes best places to live, study and work. Lancaster and provides varied range of infrastructure. Lancaster's ancient stories are hidden in its walls and buildings, to truly find out more about the people who shaped its history you must explore first hand.
Living and working in the city makes a balance between work and life, both feasible and pleasant. Lancaster is simple to find to from just about anywhere either in the UK or overseas. It is just over an hours drive from Manchester. A city which is easy to get around, but you can still experience a range of locations when you book a student home. Lancaster has a gentle southern UK weather, on rare occasions it snows, with lovely summers. Spring is a beautiful time to visit Lancaster.
Bayt offers a wide range of student homes to rent. These range from flats, luxury studio apartments, shared housing, or a room on a budget. Lancaster has plenty of choices and you'll find everything you could want.  When you come to Lancaster for studies, you link with more than 15,000 students at different universities. Also when you complete your graduation and if you planned or like to stick here, because it is a growing, exciting and city.
Finding appropriate student home may make a major difference to your university experience at University. For the majority of first year undergraduates and some international university students, on campus accommodation is the preferred choice. On the other hand, some tenants find living in personal rented or off campus accommodation more beneficial for more privacy or location. It's also essential to choose a reliable student living company when searching for homes or accommodation.  The are a wide selection of student living company providers. However, it's important that you go for trustworthy company, that provides an affordable rent and is prepared to work with you to find you a student home to suit your needs.
At Bayt student homes we will help you the different types of accommodation available. From houses to studio apartments and student accommodation. With our office in prime location, with a contemporary interior design. Bayt are in an excellent position to carry out the management and letting of quality property throughout Lancaster. To know more visit Bayt and check the full list of student accommodation or property for rent in Lancaster check out our student homes online.
Put your Custom category text here.